Strategic Alliances
Equipment Suppliers
We are committed to maintaining a diverse supply base through equipment distributors and manufacturer-direct relationships. Partnerships with suppliers are one of the most valued components of any business; and maintaining relationships with the supply base is vital to delivering to our customers' requirements. We have access to scores of manufacturers to meet or exceed the project requirements.
Interested in becoming a supplier?
Companies interested in becoming a supplier to Air-Ex submit please your supplier information.
We are currently biding>
Our Active Projects>
Solution Partners:
Siemens Building Technologies



Siemens supplies Air-Ex with the latest training, technology and open systems. They supply WEB based control products, controllers, sensors, actuators, valves and VFD's. Our factory trained technicians coupled with Seimens technical support and equipment result in quality customer outcomes.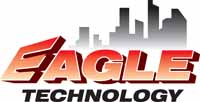 Eagle Technologies supplies Air-Ex with maintenance management software products, software integration technology, training and support. Our HVAC systems knowlege coupled with Eagles software solutions help our customers develop and maintain quality maintenance programs.
Technology Partners:
We have collaborative relationships with Energy Efficiency Consultants, ESCOs (Energy Service Companies), Mechanical & Electrical Engineers to assist them with the constructability of HVAC systems. These technology partnerships result in innovative designs that are cost effective. Ultimately both parties benefit from this symbiotic relationship.